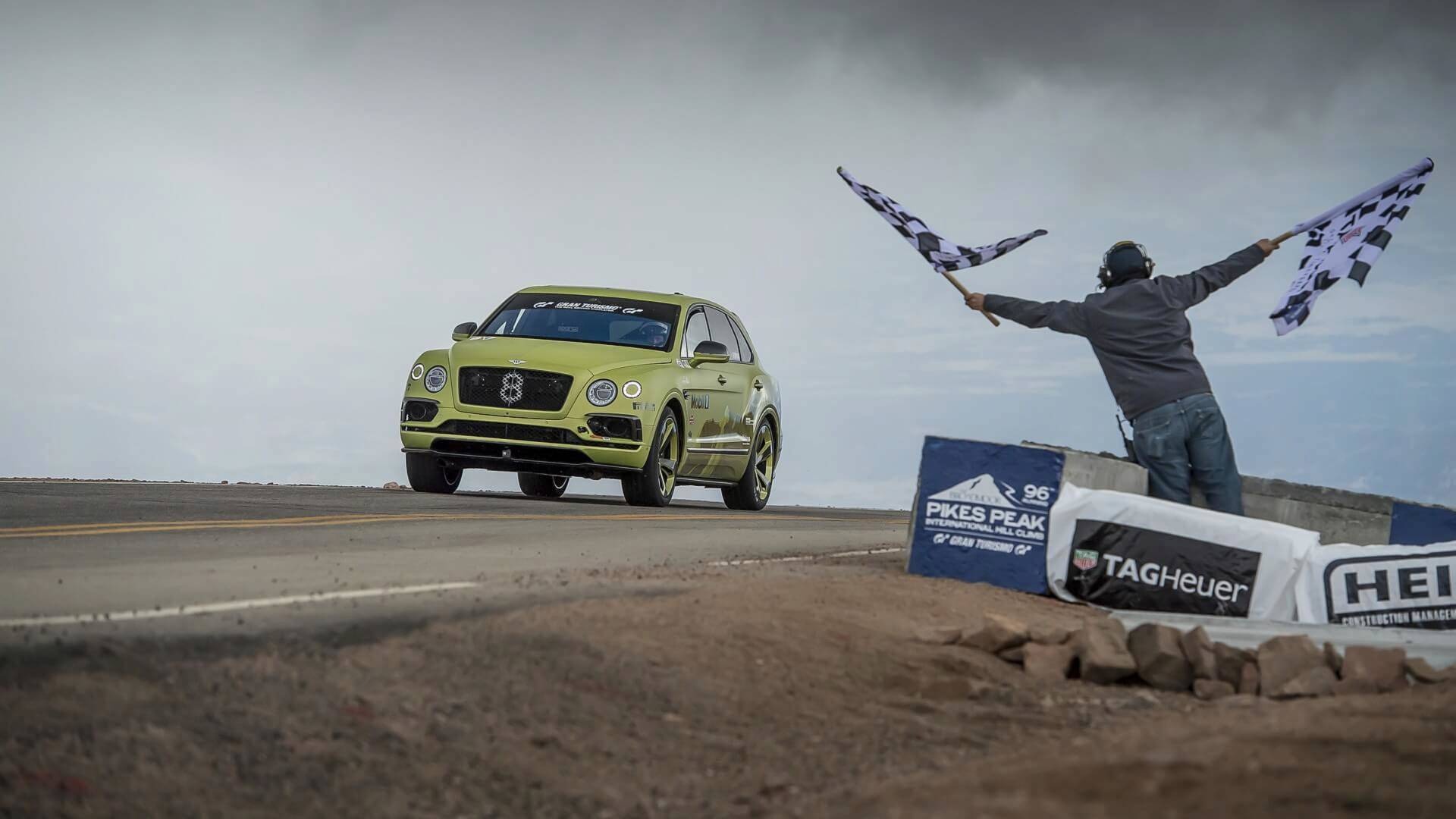 We had a hunch it was on it's way to execute this last week but now that Pikes Peak is complete for 2018, we can confirm that the Bentley Bentayga specially prepped for this event has grabbed the record for an SUV.
In 2014, Paul Dallenbach drove a Range Rover Sport to a Pikes Peak record for SUV's of 12 minutes and 35.6 seconds. As impressive as that performance may have been, Rhys Millen behind the wheel of a nearly standard Bentley Bentayga just managed to obliterate the record by completing the challenging 12.42-mile course in just 10:49.9.
This means the W12 powered SUV averaged a very impressive 107 km/h up the 1,624 meter course which includes 156 corners.
Speaking immediately after his run, Rhys Millen commented:
"What an incredible machine. To take a luxury SUV with minimal modifications and be able to drive up this course in under 11 minutes is a huge testament to the performance and level of engineering in the Bentayga. I had a great run – the car was planted all the way up and gave me the confidence I needed to push hard. I'm delighted to take the SUV record for Bentley and for everyone that's been involved in this project."
It's safe to say the luxury marque from Crewe must've been pretty confident in the Bentayga's ability to set a new record for SUVs at Pikes Peak considering it's already unveiling a special edition to celebrate the attempt.
The Pikes Peak Bentayga will be limited to just 10 units and will pay a visit to the bespoke division known as Mulliner and will exclusively available in Europe. For you exterior, you have the option of either Deep Beluga Black or Radium to mimic the race car.
It sits on 22-inch wheels featuring a two-tone look and eschews the chrome accents for glossy black surfaces as part of the Black Specification package included with the limited-run model. To drive the point home, a Pikes Peak logo proudly sits on the front fenders.
Wrapping the package together on in the inside includes Key Lime accents, individually numbered treadplates and a map of the hill climb on the carbon fibre panel of the dashboard.