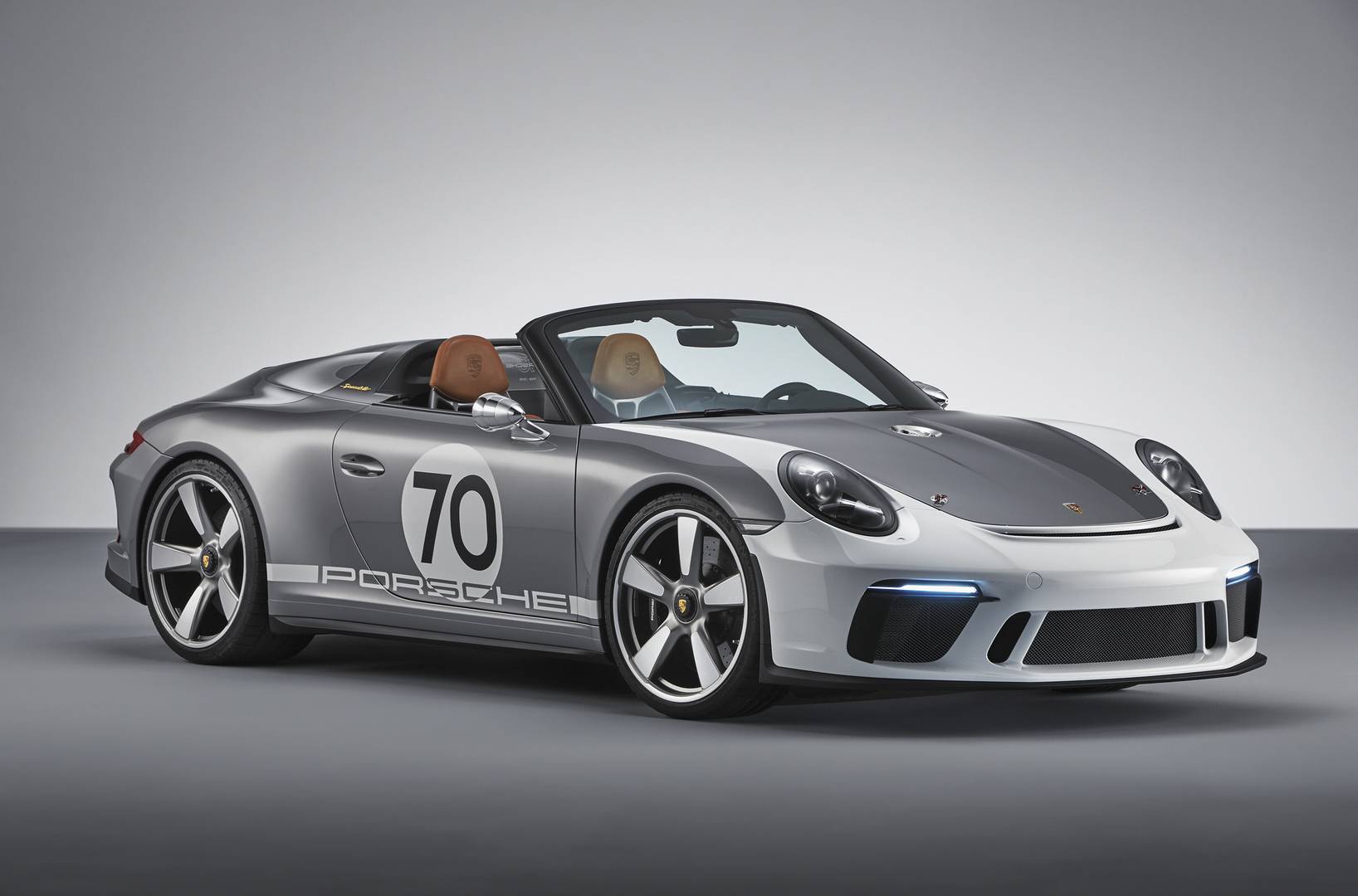 As part of the big 70th anniversary celebrations for Porsche, they unveiled a 911 Speedster Concept inspired by the very first Porsche 356 "No. 1" Roadster and it looks sensational.
It is very likely that it will spawn a production version as we have spoken about it before and a few VIP Porsche customers have confirmed it will be offered.
This Speedster Concept features a shorter windshield frame with an increased windscreen angle and shorter side windows. A special rear decklid has been constructed from carbon fibre which connects behind the front seats, covering the safety bars. It gets a distinct dual "streamliner" design, something which is traditional to Porsche Speedsters of all ages and also sports a lightweight tonneau cover instead of a convertible top.
Inside, the Speedster sheds the navigation, radio and air conditioning systems in an effort to reduce weight. The bucket seats are made of carbon and light brown natural leather in Cognac covers the interior.
The body of the concept car was adopted from the 911 Carrera 4 Cabriolet. The body is all new with fenders, a front trunk lid and rear decklid cover made of light-weight carbon fibre reinforced polymer composite material. The paintwork is a blend of traditional GT Silver Metallic and White. Touches such as the 50s-style central fuel tank cap and the Talbot shape of the exterior mirrors give the Speedster Concept a unique look.
Underneath, the Speedster Concept features a GT3 chassis. The engine is a naturally aspirated flat-six producing 500 hp and coupled with a six-speed manual transmission. A first for any Porsche, the Speedster features 21-inch centre locking Fuchs-design rims.
The latest Porsche Speedster continues a long line of Speedster models. It started with the 1952 356 1500 America Roadster. By 2010, eight different production and special models had been produced bearing the "Speedster". The last was the 997 911 Speedster built in 2010 in limited numbers, just 365.
Can't wait to see this at the Goodwood Festival of Speed in July.