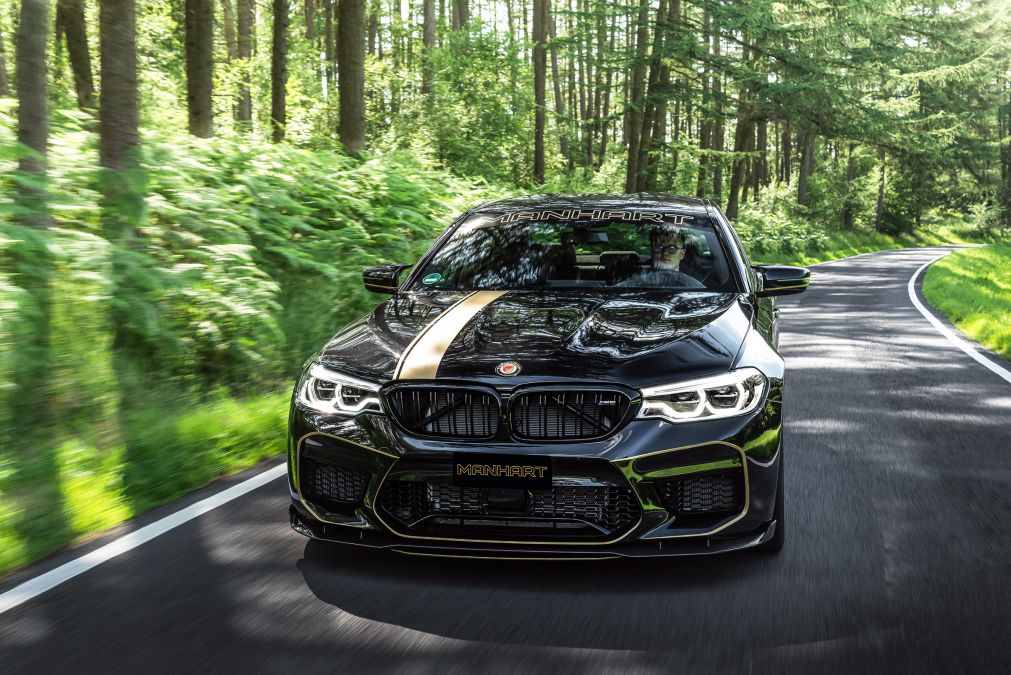 The F90 BMW M5 has undoubtedly redefined the performance benchmark on midsize sedans. With just under 600 hp (447 kW) and all-wheel drive, it promises an unquestionable level of potency. Only a mad tuner such as Manhart would think of bumping even more power to such a car and that is exactly what they have done.
Manhart is an aftermarket specialist fame for working on BMWs and making them even more dramatic. In this case the tuner has taken an F90 BMW M5 and developed a performance upgrade program comprising of both hardware and software components that result in a 712 hp (531 kW) super saloon called the MH5 700.
The car uses the familiar 4.4-litre twin-turbo V8 powerplant, but Manhart has ditched the stock ECU and fitted its own dubbed the MHtronik which has accounted for 120 (90 kW) more ponies in addition to the 592 hp (441 kW) of the stock car. Torque is also upped by 120 Nm to 870 Nm. The Manhart MH5 700 also breathes through a new stainless steel exhaust system which is not only more vocal but also reduces back pressure. To put numbers into context, Manhart says that this 712 hp (531 kW) and 870 Nm monster will accelerate from 100km/h to 200km/h in 5.9 seconds.
The MH5 700 has also undergone a suspension upgrade; Manhart has fitted new KW coilovers which put the saloon 20mm closer to the ground. In effort to save the M5's multi talents, there are upgraded spring rates and new dampers to match which was especially necessary considering that the wheels are now an inch bigger.
On the surface, changes include decals (painted in gold), a front splitter made of carbon fibre, a rear diffuser insert and lip spoiler. The bodywork upgrades are rather subtle and so is the interior (limited to colour and trim changes) bearing in mind that we're dealing with a Manhart project, but since the tuner is not yet done with the aerodynamic enhancements, we can expect a more insane-looking M5. The aero kit will include a carbon fibre bonnet which is quite familiar with Manhart BMWs.
With the F90 BMW M5 now featuring an AWD system, the playground for tuners has expanded quite significantly as they won't have to worry about traction issues. Manhart has not released performance details of the MH5 700 but with that much power going on four wheels, I can't this car seeing many taillights.