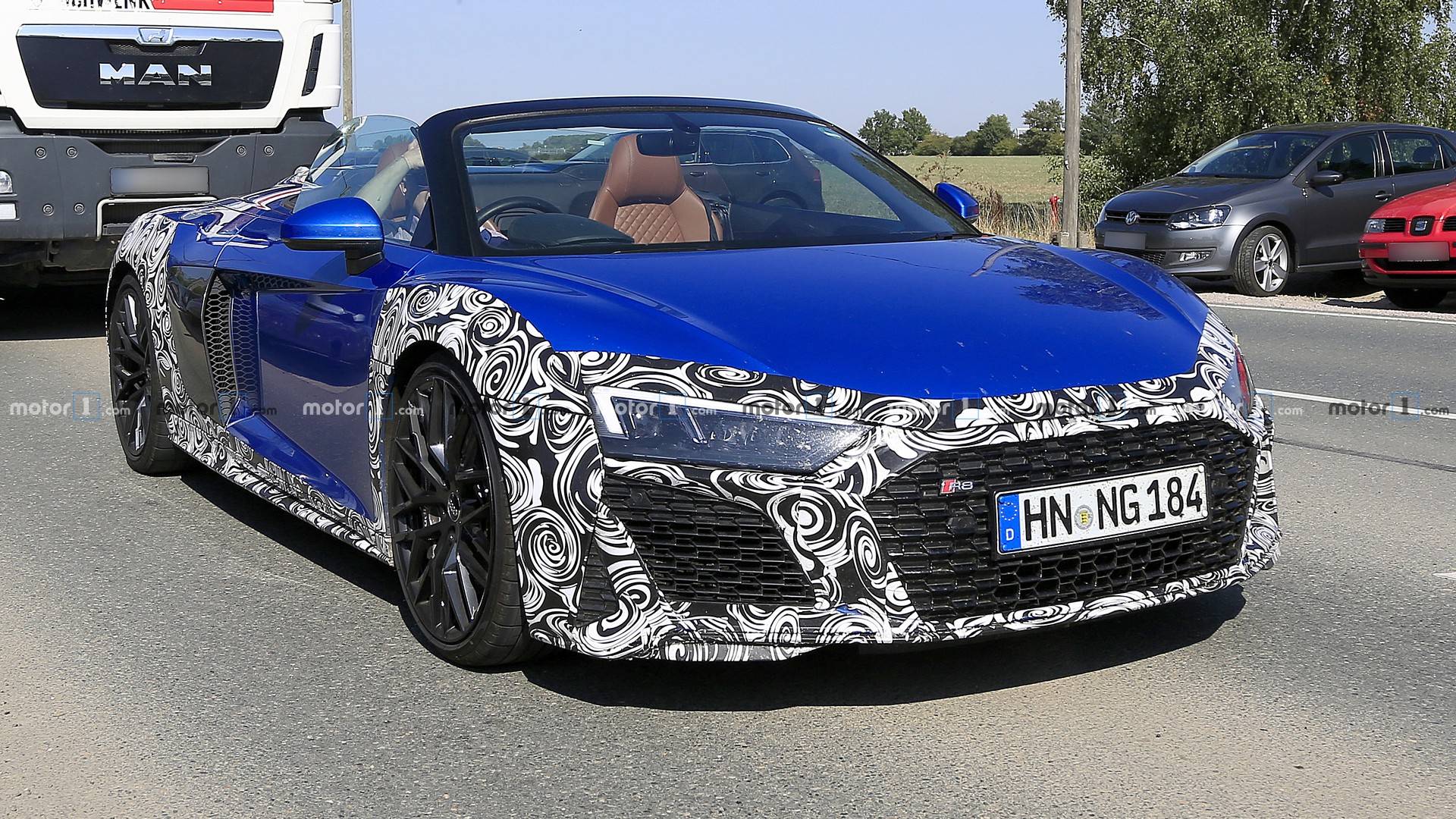 Quite recently we reported of the Lamborghini Huracan facelift that was spied testing in the streets of Germany in drop-top spec. Meanwhile, Audi appears to have followed suit and also started road testing the facelift version of the R8 Spyder.
It's becoming fairly clear that Audi's punters of Lamborghini's 5.2-litre V10 are not far from touch-up phases of production. Early this year, Audi began to roll out the hard-top R8 facelift to the open roads for testing, and now there are shots of a roofless Audi R8 facelift road testing with camouflage wrap on a lot of its body panels.
You don't need much of an imagination to work out that the camo wrap is hiding the Audi R8's updated bodywork. As with the coupe version, the R8 Spyder facelift adopts new front and rear ends. Although wrapped, the updated bodywork looks so aggressive that we suspect that the car spotted is the supposed R8 GT Spyder.
For 2019, the Audi R8 will feature a new grille and air intakes making a more menacing front end. The back of the car meanwhile boasts much larger tailpipes, a more pronounced diffuser and a mesh grille that covers the whole width of the rear end. Thanks to the side also wrapped in camo, we can expect the Audi R8 facelift to sport tweaked side skirts and slightly larger wheel arches.
As with its more passionate, Italian cousin, the Audi R8 facelift is likely to get some more 'go' to its naturally aspirated V10 engine. On power alone, we can expect GT models to be in shout of the Huracan Performante at 640 hp (477 kW). With the updated R8 likely to launch before the end of the year, juicier details should be arriving soon.