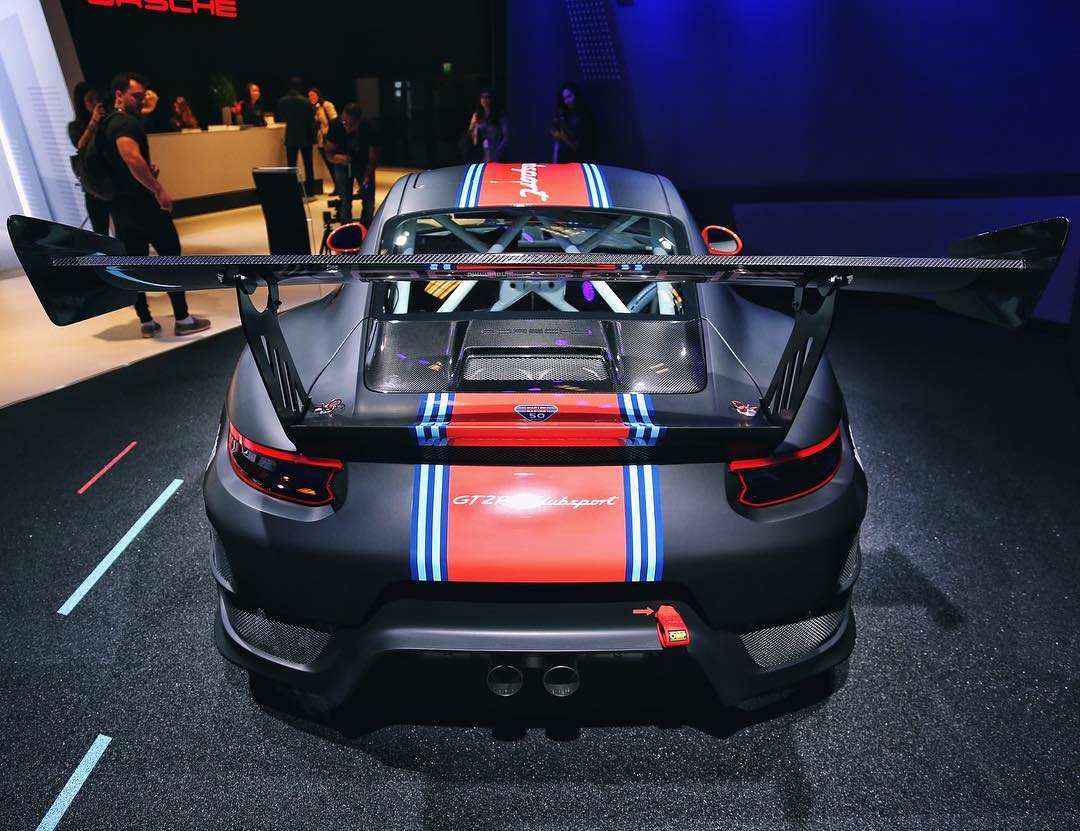 Porsche has used this year's LA Auto Show to take wraps off yet another limited edition model following the 935's announcement earlier in the year. Called the Clubsport, this is a track-only version of the 911 GT2 RS and having seen that the automaker also showcased the next-gen 911, this limited edition RS may just be the final encore of the 991 models.
Unsurprisingly the Clubsport makes use of the same chassis as the 'regular' 911 GT2 RS. The engine however is shared with the 935 – a 3.8-litre turbocharged flat-six which is also found in the road-going version, only in this application it fires 700 hp (522 kW). Like the road-going RS model, power is sent to the rear axle via a seven-speed PDK 'box. The Clubsport also features Porsche Stability Management which includes the brand's traction control and ABS systems.
Being a track-only model, it does make sense for the Clubsport to boast some weight shedding as well. The racer is claimed to tip the scales at 1,390 kilograms and if this was taken from EU scales, this car weighs a substantial 155 kilograms less than the GT2 RS. A significant fraction of this weight shedding is courtesy of the frugal cabin which features a carbon fibre steering wheel and colour display taken from the 911 GT3 R.
The 911 GT2 RS Clubsport comes with a mouth-watering price tag of $478,000 (approx. R6.5-million). Mind you, this excludes tax, shipping and import fees. It appears that those who are willing to own one of these should apply by sending a mail to GT2RSCS@porschemotorsport.com as deliveries are set to kick off in May 2019.
It is also worth mentioning that the Clubsport also has racing events lined up for it to ensure that owners use it to its full purpose.