Under the Kahn expedition vehicles umbrella, the black Jeep Wrangler Sahara 3.6 (petrol 4 door) Chelsea Truck Company CJ400 Expedition vehicle further expands the iconic brand's reach. Afzal Kahn delivers this high-impact edition with such clout; it is safe to say that the Kahn Jeep would not look out of place with London, Geneva or Shanghai centric drivers – even rock climbers and off-roaders at the helm.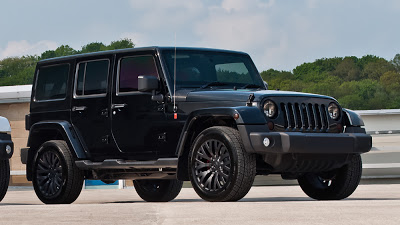 The use of immaculate materials and outstanding build technology is outstanding. An aerodynamically efficient exterior package consists of brake calipers finished in liquid red, side wing blades in carbon, horizontal LED daytime running lights, door entry sill plates in stainless steel, smoked rear lights and headlamps, exterior Kahn enamel wing shields, exterior Kahn enamel tailgate logo, privacy tinted glass, fuel filler cap in smoked black, tron ring lighting, vented foot pedals in machined aluminum, optional crosshair headlamps, mud flaps (toughened rubber – set of 4), and Chelsea Truck Company spare wheel cover.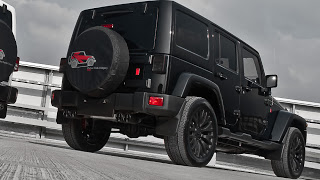 In addition – the front grille endows the vehicle with the classic A. Kahn Design mind-set whilst maintaining the classic wrangler signature style.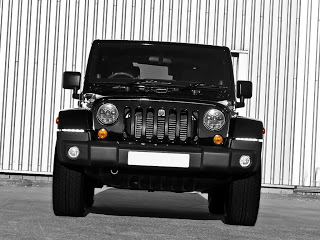 Designed to slot in with factory mounting points for easy installation, the Kahn Jeep front grille conveys linearity and purity. The motoring supremacy does not end here – openings within the grille and lower valance combat unwanted road debris by ensuring optimum airflow to the radiator, intercooler and front brakes, thus the Kahn grill can stand the test of time!
Centered round a radical design and interconnected in order to coalesce design and engineering expression, the Kahn cross hair exhaust system (with 100mm tailpipes) in stainless steel reflect an attraction to a pluto-matic lifestyle: a first cousin only to silence and manners.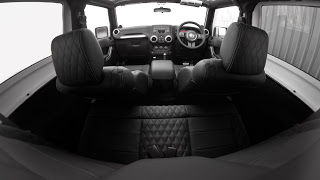 Inside is the 'bespoke touch', and this particular vehicle has front and rear seats in black leather with silver contrast stitching, floor mats (toughened rubber), speedo and rev counter facia in black.
However, we always provide our customers with what they want. Afzal Kahn could, for example, design for you a vehicle with an exterior the colour of your jeans and an interior with seats akin to the shade of, let's say, your living room. Customers could also change the colour of the clock, or ask for anything else, the world is their oyster, so to speak.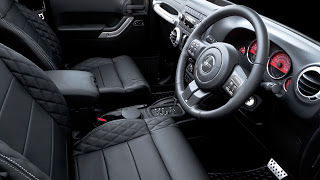 Kahn wheels sit perfectly, on any vehicle, conveying the essence of the vehicle's identity. Created using state of the art manufacturing and materials technology, the Kahn RS wheels are available in 9 x 20 in smoked black and fit all original centre caps.
With simple clean lines, soft organic surfaces on the edge of the spoke and a purposeful mechanical centre, the RS wheels are synonymous with elegance and innovation.
For your safety and convenience – 275x55x20" tyres (extra load) are included with this particular vehicle priced at £35,875,000.