Sponsored Post: Cars.co.za Releases Powerful Car App for Android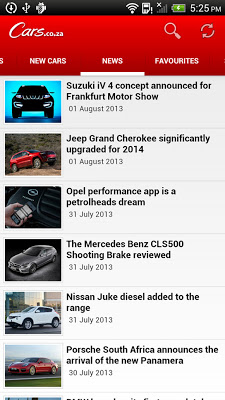 Cars.co.za has developed a unique car app for Android that puts the site's massive database of cars for sale in South Africa into your pocket – available anytime, anywhere. The app is fast, convenient and features clever tools to help you find the perfect car for your budget. Research new car prices and specs, and tag your favourites to view later. It's all at your fingertips.
Cars.co.za is proud to present our local app tailored for the Android platform.
Powerful Android App feature functionality includes:
Simple "Quick search" facility
Advanced search facility
Multiple search criteria support
Comprehensive sorting options
Favourites tagging
Multiple images
Simple contact form
New Car Research
The new Cars.co.za Android app is a first for South Africa in offering a comprehensive new car database that is constantly updated with pricing and specs. You'll find everything you need to know about that new model right here. An exclusive list of new car specials is also available.
Download the App here