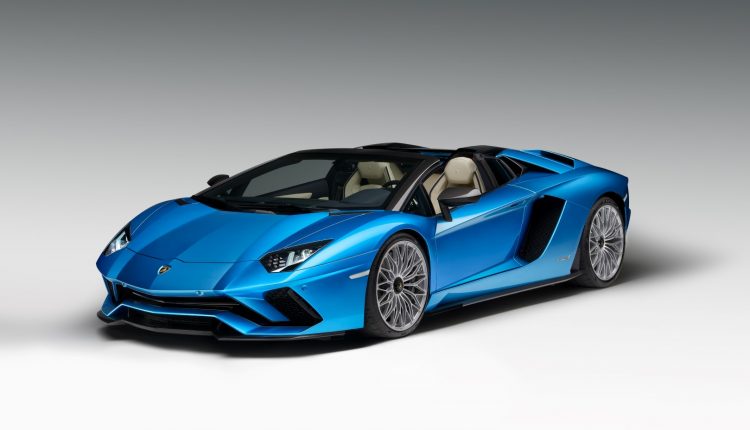 It was only a matter of time until we saw the drop-top version of the mighty V12 Aventador S and it looks absolutely mesmerizing in this Ad Personam Color Blu Aegir.
CEO, Stefano Domenicalli says "The Aventador S Roadster offers the thrill of open air driving without compromising on driving dynamics or the occupants' comfort, and adds a further luxurious dimension through the personalization options available."
At the back the car sports distinctively different lines to the coupé, giving the roadster its own aerodynamic character. Like the regular Aventador Roadster, there is an engine bridge running from the back window to the rear in a mix of body colour and matte black painted carbon fiber engine bonnet blades. If you wish, you can spec the transparent option to show off the V12 engine within.
The roof is removable and weighs just 6kg thanks to the magic that is carbon fibre. As standard it is finished in matte black carbon fibre but optional specifications including high gloss black, shiny visible carbon , and further Ad Personam possibilities. Lamborghini claim that it features "an easy fastening system allows the roof panels to be quickly removed and stored in the front trunk."
Want to hear that V12 howl without taking the roof off? You can thanks to an electronic rear window and if you have the roof off, the window minimizes cabin noise and airflow.
The same technology from the Coupe is transferred over to the Roadster version which means you get four-wheel drive, new active suspension, new four-wheel steering system, and the new EGO driving mode.
Sprinting to 100 km/h takes just 3 seconds and it will run all the way to 350 km/h. The slight increase in sprint time is because the Roadster is 50 kg heavier than it's Coupe sibling. Its 6.5 litre V12 engine outputs the same 740 hp with 690 Nm of torque at 5,500 rpm.
"The Aventador S Roadster is launched in the Ad Personam Color Blu Aegir, inspired by the peaceful turquoise ocean hiding an indomitable force beneath: sophisticated yet powerful, with extensive use of carbon fiber.
The wing mirrors and windscreen frame are finished in high gloss carbon fiber while the lower part of the car including front and rear bumper, side skirts, air intakes and outlets are in visible carbon fiber.
The configuration internally demonstrates the potential of the Ad Personam program, using Blu Delphinus leather contrasted with Bianco Polar, with Blu Delphinus S-trim stripes on seats, doors and dashboard and even the floor mats in blue and white."
The first customers will take delivery of the new Lamborghini Aventador S Roadster in February 2018 at suggested retail prices as follows:
Europe:    EUR 313,666.00 (suggested retail price taxes excluded)
UK:          GBP 251,462.00 (suggested retail price taxes excluded)
USA:        USD 460,247.00 (suggested retail price – GGT included)
Lamborghini Aventador S Roadster