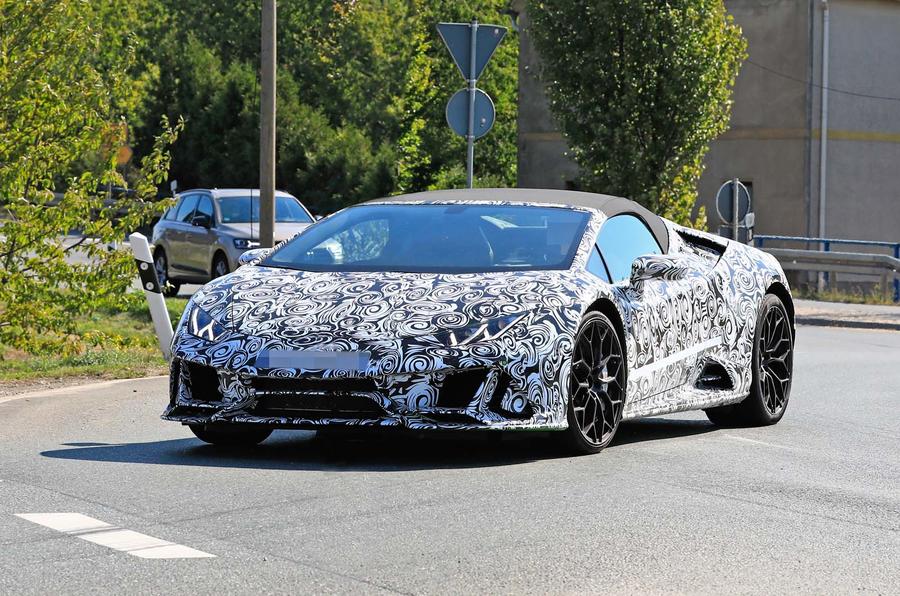 Lamborghini appears to be nearing the final stages of the Huracan's development. The baby raging bull was spotted road testing in Germany hiding its tweaked bodywork in camouflage wrap.
Although still packing the same LED headlights which are likely to be replaced in later stages of development, a significant chunk of the front end has undergone some alteration. The Huracan facelift sports extra air intakes adding to its more thorny front design. The updated body kit seems to be more aerodynamic, we can also expect the refreshed Huracan to feature a new active aero system.
From the sides there seems to be no dramatic changes, except that there is now a pair of different, lower side scoops and more pronounced rear fenders on either side of the car. The back of the car however is where you will not miss the Huracan facelift. For starters, it now features a rear bumper with Performante DNA, placing the two exhaust ports higher up, flagging the number plate and leaving a more aggressive diffuser down low.
The rear of the updated Huracan also features more vents. This means that the 5.2-litre V10 engine is likely to get a bit of a bump up as well. Lamborghini has previously announced that it won't be strapping any turbochargers on their V10 and V12 engines, so we can expect the Huracan facelift to source some electrified help from its powertrain in order to comply with the latest emissions regulations.
The Huracan facelift is also rumoured to host a revised trim to the seats and dash while boasting a 10-inch infotainment display when it arrives in 2020. Until then, we will have to be patient for further details.