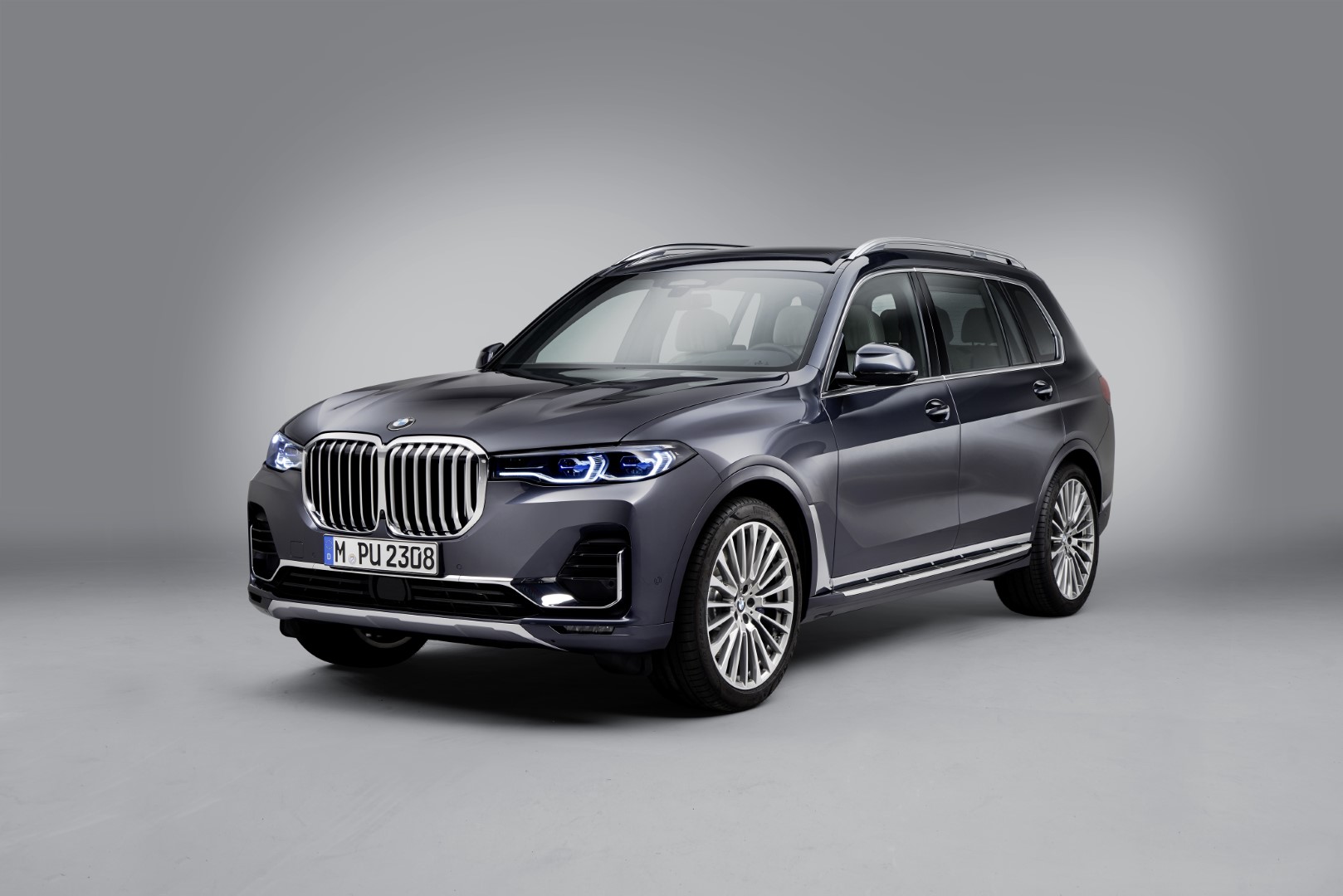 BMW has just revealed its new flagship SUV called the X7. Based on the X7 iPerformance concept which was introduced last year, this vehicle is significantly larger and even more luxurious than the X5. The new BMW X7 will arrive in 2019 offering a range of variants to choose from, but only two options will hit South African shores.
Measuring over 5 metres in overall length, the X7 has a wheelbase that's over 3 metres long, it's also 2 metres wide and 1.8 metres tall. BMW says that the X7 offers a unique blend of "presence, exclusivity and spaciousness." The new flagship SUV is also equipped with the largest kidney grille the automaker has ever had on a production car.
The BMW X7 features adaptive LED headlights on either side of the massive grille. Under the headlights sit air intakes which are in tune with the bulk of the car, and so are the 21-inch alloy wheels which the SUV rides on. Perhaps to add to the commanding look of the car, designers have gone for a relatively flat roof, but that could also just be a way to accommodate the prominent greenhouse trimmed by chrome surrounds. Another one of the many noticeably large components of the car are the rear doors which are quite long.
The X7 also features an electronically operated split tailgate and slim taillights – one feature of the model opposing the rest of the bulky theme.
Inside, the model features a luxurious interior with an elegant blend of leather and, wood and metallic trim. Also featured is a 12.3-inch infotainment display system while the driver will be reading from another 12.3-inch digital instrument cluster. There will also be an option of a 20-speaker Bowers & Wilkins Diamond surround sound system as well as a rear-seat entertainment system with 10.2-inch touch displays. Heated seats, power rear window shades, a heads-up display and heated/cooled cup holders.
Unsurprisingly, the BMW X7 also boasts a host of driver assistance systems. An Active Protection and Active Driving Assistant system with Blind Spot Detection, Lane Departure Warning, Rear and Frontal Collision Warning, Pedestrian Warning with City Collision Mitigation as well as Cross Traffic Alert and Speed Limit Information are all part of the standard features.
Buyers who think that BMW was stingy with standard features can opt for an Active Driving Assistant Professional system with Active Lane Keeping Assistant and Extended Traffic Jam Assistant while there's also a Parking Assistant Plus package which adds Top View, Panorama View as well as 3D View.
The BMW X7 will arrive in March 2019 with a range of variants including two petrol and two diesel derivatives, namely the xDrive40i and xDrive50i featuring a 3.0-litre turbocharged straight-six engine with 335 hp (250 kW) and 446 Nm of torque as well as a 4.4-litre twin-turbo V8 with 456 hp (340 kW) respectively. Diesel-powered variants meanwhile feature an xDrive30d with 261 hp (195 kW) and 620 Nm from a 3.0-litre six-cylinder engine while the star diesel wears an M50d badge producing 394 hp (294 kW) and 560 Nm of torque.
The South African market will get the two diesel-powered models, with base prices starting at R1,562,849 for the xDrive30d and R1,862,308 for the M50d. In the entry-level model, 0-100 km/h will be achieved 7 seconds and top speed will be 227 km/h. The big boy on the other hand will hit 100 km/h in 5.4 seconds boasting a top speed of 250 km/h.