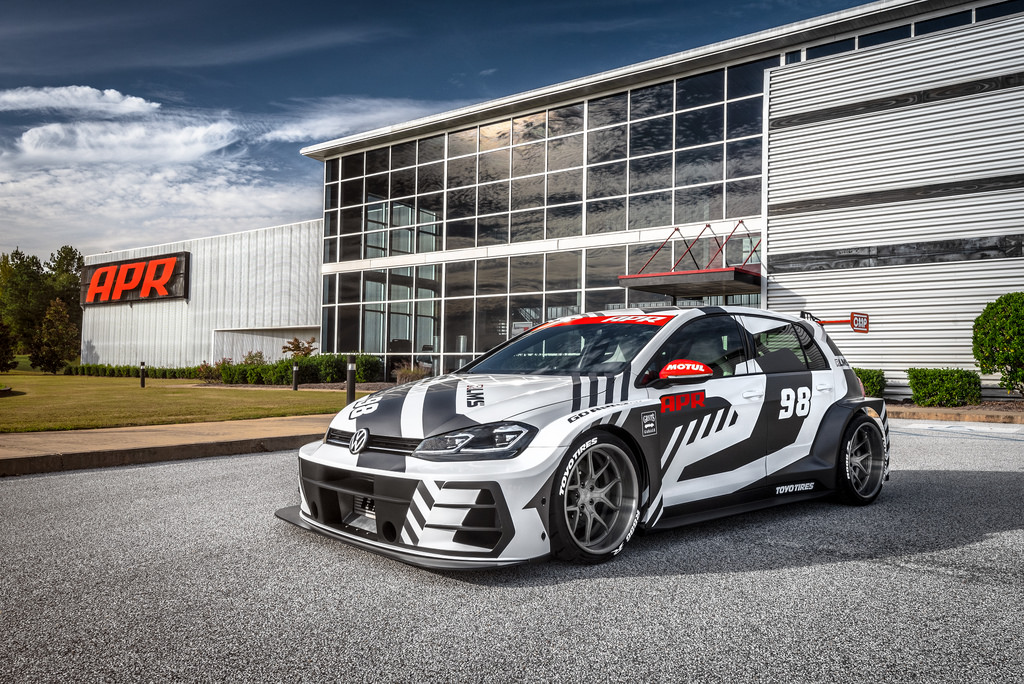 Audi Performance and Racing (APR) turned up at SEMA with a purpose built track car based on the 2018 Volkswagen Golf R.
They have called it the VW Golf RLMS and it is a far cry from the original hot hatch that left the factory.
They cranked the dial up three notches, adding its top-tier Stage 3 engine upgrade to the Golf R's 2.0-litre, four-cylinder heart. In addition to the ECU upgrade, the car received a twin-scroll Borg Warner turbocharger, better fuel injectors, an uprated fuel pump, and an APR carbon fibre intake, intercooler, downpipe, and exhaust. The result is a 244 hp (182 kW) increase to 536 horses (400 kW), plus an additional 257 Nm of torque.
The very wide kit is inspired by the Volkswagen TCR but also houses a massive front splitter, adjustable rear wing, and wider APR two-piece wheels with Toyo tires. Other racing modifications include APR's Roll-Control Stabilizer Bars and Roll-Control Racing Coilover System, plus a custom roll cage and racing bucket seats.
APR claim the upgrades will result in a 10 second quarter mile time and hit 140 mph (225 km/h) 15 seconds than a stock Golf R.
"APR's extensive racing history has helped us to develop the Golf RLMS," said APR's President, Mitch Williams. "We wanted to create a Stage III track car that can dominate circuits around the country. With 536 horsepower and all-wheel-drive, we can't wait to turn some laps."