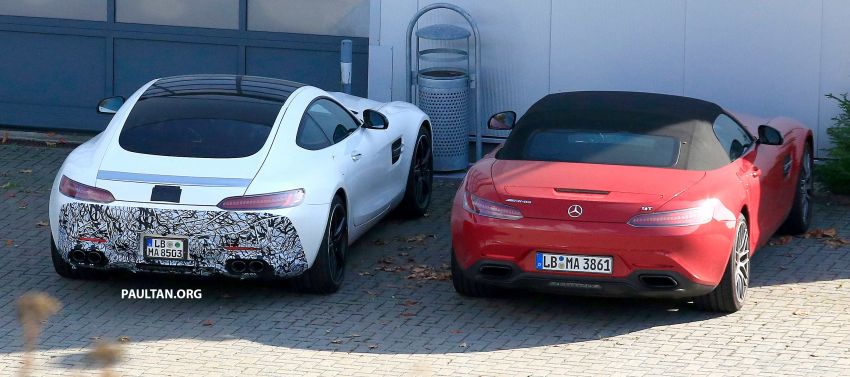 With Mercedes-AMG working on a mid-cycle update for its GT sports car, there are now rumours that the range-topping GT R model is to get a "Clubsport" package of some sort. At the bottom end of the range though, we could see an entry-level six-cylinder model.
We have seen earlier prototypes of the GT sporting typical AMG rectangle-shaped exhaust tips. However, a more recent prototype features round quad pipes – raising suspicion that Mercedes-AMG could be cooking up a six-cylinder variant as we have seen with the Mercedes-AMG C43, CLS53, as well as the recently revealed GT43 4-door coupe.
If these suspicions are correct, the entry-level AMG GT will be powered by the marque's new turbocharged 3.0-litre straight-six engine which in 43 guise delivers 362 hp (270 kW) and 490 Nm of torque. Should Mercedes-AMG decide to slap the sports car with a 53 badge, we can expect it to produce 429 hp (320 kW) and 520 Nm. However, we shouldn't rule out possibility of engineers squeezing out more power to replace the 4.0-litre biturbo V8 found in the current entry-level spec producing 469 hp (350 kW).
Anticipation of a new variant introducing a new engine in the AMG GT line-up may bring some excitement, but the brand could also be merely exploring new ways of differentiating between derivatives of these models. With the current model range sporting rectangle exhaust tips throughout the range, perhaps round pipes are just a new way to mark the GT aside from sportier GT S and GT C models, albeit with the same engine.
Mercedes-AMG is expected to launch an updated GT before the second half of 2019. Until then, we'll be waiting to get further details of the new car, as well as more wraps being taken off of the flagship Black Series model set to debut in 2020.