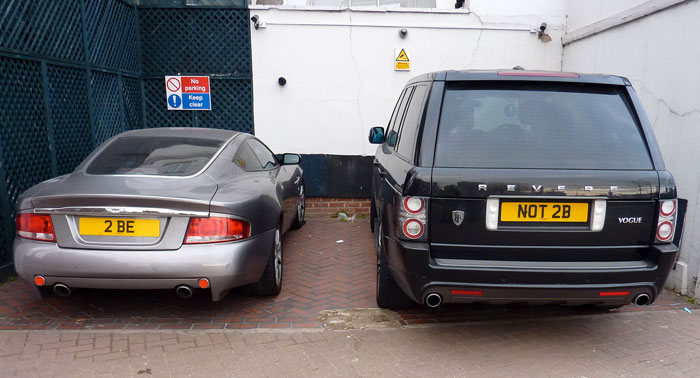 Personalised number plates have skyrocketed in popularity in recent years. And while seeing private number plates on the street used to be a pretty rare occurrence – it's way more common today than ever before.
Today, car owners have the freedom to put whatever they want on their number plate with a few restrictions and general guidelines that need to be followed. But even then – it can be pretty difficult to figure out exactly what the private number plate should be. You might often find the same number plates listed on many websites, this is because many dealers share their stock lists, you can find other websites such as Click 4 Reg who do not share their stock lists and tend to have more unique private plates that you won't find on other websites.
To give you a helping hand, in this article, we will take a look at the top 5 most in-demand types of personalised number plates currently seen on the streets across the United Kingdom and maybe – by the end of the article, you will have a better idea of what you want your number plate to be.
Names
The most in-demand personalised number plates in the UK are names. A lot of private plate car owners put their name on their number plate because it's easy, memorable, and can really set you apart from everyone else. Besides, who wouldn't want to have their name on their number plate?
But how do you spell out names using only numbers and letters?
Well, that's where autonumerology comes in. Car enthusiasts have found a way to replicate the alphabet using the numbers and letters you find on car license plates so you can spell just about any name in the book.
For example, you can spell the name "Peter" as P3 TER, so it still falls under the UK regulations for license plates. Other options are "R4 LPH" and "D4 VID". However, feel free to apply your own creativity to find the best way to spell your name using personalised plates.
Businesses
It's also pretty common for drivers in the UK to name their private plates after their businesses. When running a business, all advertising is good advertising. So, if you want more people to know about your business when they see the company car, you can register a personalised plate with your business name on it.
Just like with first names, you need to apply your creativity to figure out how to spell a certain name. With that said, you can always ask friends for help or go to the internet to look at your options. Alternatively, you can just use the initials of your business, so it's straight to the point and not too complicated.
Birthdays
If you aren't keen on putting your name or company on the license plate, another very popular option is your birthday. Many people do that because it's an easy way to personalise their car, it's easy to remember, and isn't too obvious.
And while birthday personalised plates are in-demand right now, it isn't too hard to find a plate for your birth date. And even if your own birth date is taken, you can always figure out unique combinations and ways to reference your birthday.
Car Models
A great alternative to the other personalised number plates mentioned above is a reference to your car. This is great for people really in love with their car. For example, if you just bought your dream BMW after years of hard work and saving, you can put the "BMW" initials right on the plate. You can personalise that further by incorporating the make and model of your car, but that's all up to you.
Fortunately, there are tons of car brands and models out there, so the chances of being able to have your car model and brand on the number plate will be pretty easy. And if someone's already taken it – then you can either try and buy it from them or come up with a unique combination that isn't yet taken.
Type of Engine – V6, V8, V12
A lot of car enthusiasts want to show everybody on the road how powerful their vehicle is often using the type of engine the vehicle has. So, next time you see a V6, V8, or V12 – know that the V with the number after it indicates how many cylinders the engine has.
Many car enthusiasts find a lot of pride in their car's engine and would like other people to know that. And if you're one of those people – then adding the number of cylinders your engine has on your number plate is a great way to do just that.
Low Character Number Plates
Another very popular type of number plate in the United Kingdom includes number plates with very few characters. Do note that these types of number plates can be very expensive, and also very rare, which is why they have become in very high demand over the last several years.
Some examples of such personalised plates include F 1, M 1, D 5, and so on.