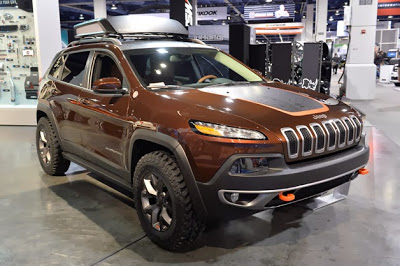 Mopar is the source for genuine parts and accessories for Chrysler Group brands as well as FIAT brands. They distribute 280,000 parts and accessories for the Chrysler group. They are also well known for specialty accessories made available to Dodge, Chrysler, Jeep, and RAM owners to outfit their vehicles. Mopar parts are unique in that they are engineered with the same teams that create factory-authorized vehicle specifications for Chrysler Group and FIAT vehicles – a direct connection that no other aftermarket parts company can provide.

Mopar is also known for customizing entire vehicles themselves. Recently, at the 2013 Specialty Equipment Market Association (SEMA) Show in Las Vegas, Nov. 5-8, 20, Chrysler showed off vehicles customized with existing Mopar parts and accessories, as well as concept products.
One vehicle that took the crowd's interest was a Jeep Cherokee. The Mopar-modified Jeep Cherokee uses the Trailhawk 4×4 package powered by a 3.2-liter V-6 engine as a starting point. Its exterior is colored in Auburn Pearl paint, with low-gloss black and Granite Crystal with low-gloss clear touches. The inside is enhanced with Katzkin Amaretto leather seats, with colored leather in the center, ensuring a premium feel.
Unique Jeep Cherokee Trailhawk graphics are bordered in Crush Orange, with matching orange tow hooks. The top of the modified Jeep Cherokee sports a concept roof basket design, with orange accent side panels wrapped in woven metallic fabric. Aggressive tires highlight the off-road flavor of the vehicle. We would love to see this Mopar vehicle crushing it on the trails someday!
[Source: http://www.shoplynch.com]