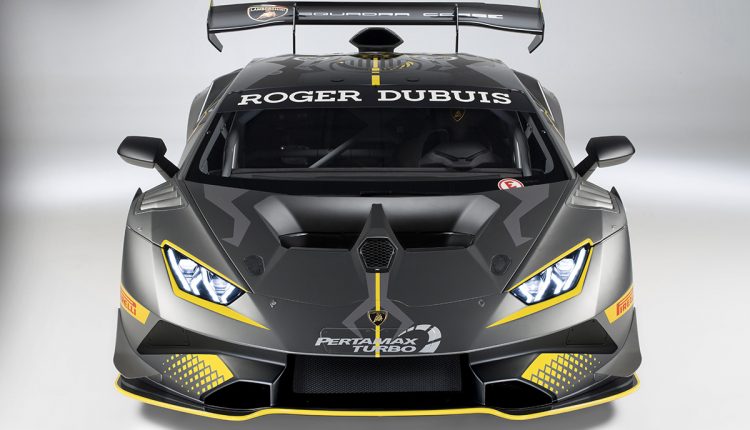 We said Lamborghini were going to unveil a new car today well here it is and it is called the Huracán Super Trofeo EVO.
The Squadra Corse department from Lamborghini have revealed an improved version of an existing model which comes with some exciting new changes.
The first major change is the title sponsor is now Roger Dubuis (luxury watchmaker). The second is that the new Lamborghini Huracan Super Trofeo EVO is no longer limited to this exclusive field of motorsport and can compete  in international Gran Turismo championships in the GT Cup category, and Endurance races as well.
The car itself boasts entirely redesigned aerodynamics and includes some new devices to improve safety and its mechanics and electronics.
Power still comes from the 5.2-litre V10 which is good for 620 horsepower but it generates 3% more torque at the maximum speed of 280 km/h.
The designers drew inspiration from LMP1 cars to improve the aero and cooling of the EVO. They also introduced a roof hatch safety system from the GT3 model. Other notable highlights of Lamborghini Huracan Super Trofeo EVO include a new exhaust system with catalytic converters,  rear wheel drive and X-Track six-gear sequential shift.
Itwill make its track debut in the spring of 2018 with prices starting at 235,000 Euros (plus tax) in Europe and Asia, and 295,000 USD in America.