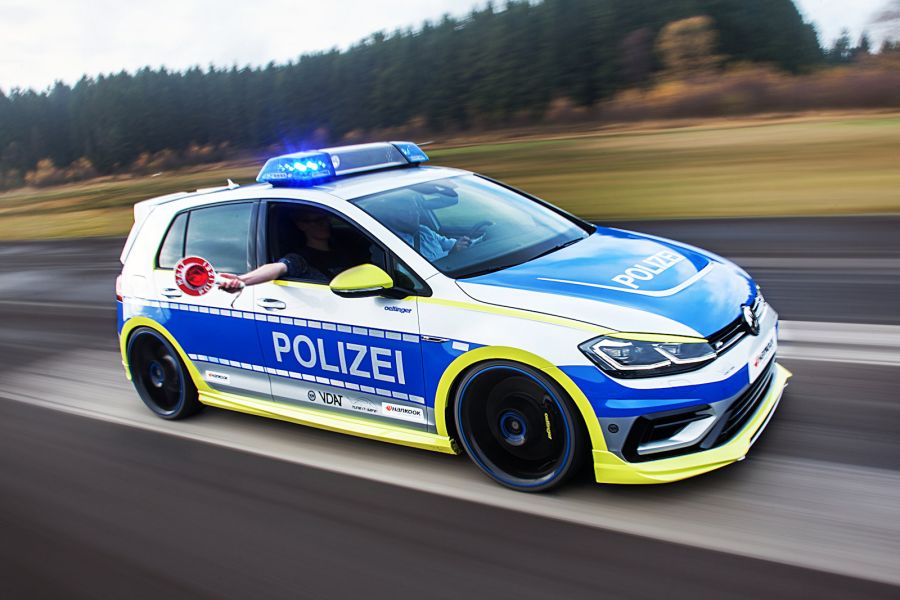 Running from the police (in any car) is a bad idea but when they have more power than you, then it is just plain idiotic.
One such case is this 400 horsepower Golf R that German tuners Oettinger have built thanks to the infamous TUNE IT! SAFE! collaborative program between the law and aftermarket specialists.
If you know your Golf models, you will immediately know that due to the headlights this is in fact a 7.5 R and thanks to the tuner the 2.0-litre engine has been boosted from 310 horses to a potent 400 hp and increased torque from 400 Nm to 500 Nm.
It has also been fitted with the Oettinger body kit which consists of front and rear spoilers, side skirts, fender inserts and a big trunk wing.
It's been made to stand out using neon paint, which contrasts against the police livery. But the mods don't stop there. We're looking at a massive suspension drop onto Oettinger RXX-Felgen 8.5×20-inch wheels with 235/45 Hankook tyres. There are bigger brakes on the car, as well as an aftermarket quad-pipe exhaust system.
Of course, a police car wouldn't be complete without the lights.