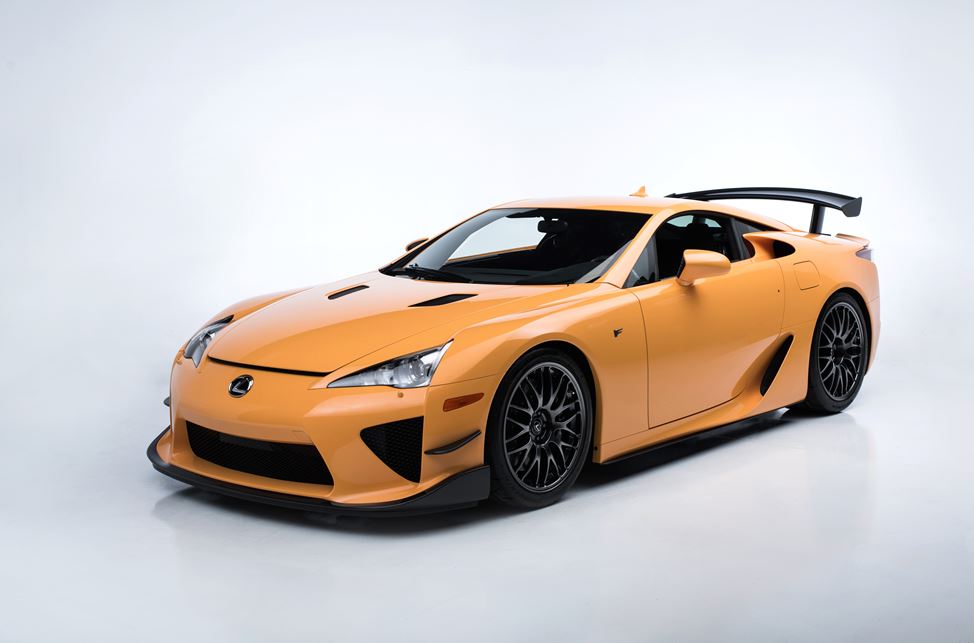 The Lexus LFA is just one of those cars that will go down in history as a engineering masterpiece and of course a collectors item (eventually).
Lexus only made 500 units of them worldwide and each unit was custom ordered to the customer's specifications, and cost approximately US$375,000, depending on options and customization. This was certainly not cheap back in 2010 when it was officially in production but Lexus went one step further with the LFA Nürburgring Edition which made up just 50 units of the 500 unit production run.
This package meant the V10 gained an extra 7 kW (10 hp) bringing the total to 420 kW (563 hp). It also features a re-calibrated transmission with gear shifts made faster by 0.05 seconds. Visually it gained a new front splitter, aero canards and a large fixed rear wing but the package also meant your LFA got stiffer and more adjustable suspension and lightweight alloy wheels wrapped in track rubber.
All of these changes mean this LFA will run the 0 to 100 km/h sprint in just 3.7 seconds running onto a top speed of 325 km/h, exactly the same as the standard car.
The Nürburgring Package was only avilable in four exterior colours namely; glossy black, matte black, race yellow, and whitest white and the price tag was a very steep US$445,000. This tag included training sessions at the Nordschleife, accompanied by Nürburgring chief instructors, a one-night stay at the Lindner Congress and Motorsport Hotel Nürburgring, admission to the ring°werk leisure park, a Nürburgring branded jacket, and a one-year pass to the circuit.
With its namesake on the line, the LFA Nürburgring Edition completed a lap of the Nurburgring with a respectable time of 7:14.64.
One of these units is headed for auction with Barrett-Jackson next month and it has just 1,600 miles (2,574 km) on the clock. This Nürburgring Edition LFA is claimed to have one owner and is finished in the race yellow hue (even though it looks orange).
Back in 2013 a white example with sold for US$505,000 and that unit had just 325 miles on the clock but in January this year a different white LFA Nürburgring Edition sold for a whopping US$825,000.
So with slightly higher mileage we estimate this unit to be sold for around the US$600,000 to US$700,000 which is still a lot of money to part with.
Something that may help you get that sort of money is winning some cash so check out the Review of Fantasino casino to stand the chance of buying your dream ride.