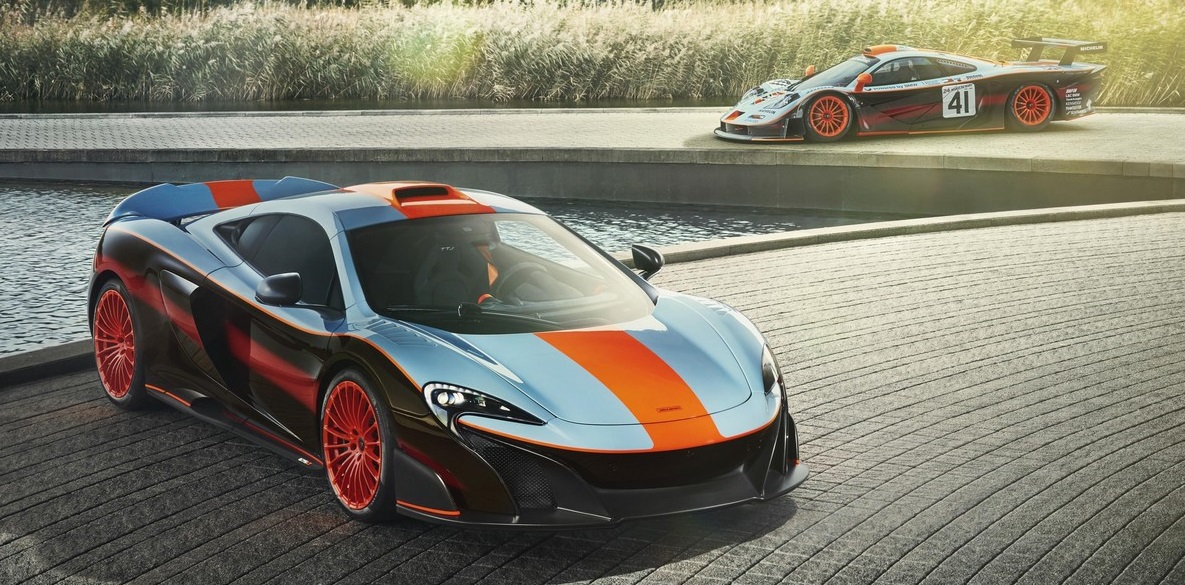 Gulf Livery is undoubtedly quite iconic and has been seen on a long list of racing legends, what is questionable however is the quality of its looks. Some even argue that the success of the livery is not owed to its "good looks" but rather the cars that it's found on; cars like the McLaren F1 GTR 'Longtail', an iconic racer from 1997. Now, as tribute to the legendary race car, this McLaren 675LT special assignment by the in-house MSO features the same racing livery.
In addition to the F1's racing theme, the 675LT is also equipped with a set of Dayglo Orange 20-spoke wheels; these are matched with the owner's initials painted in the exact same colour on the sill badges. McLaren Special Operations also saw it fit to add louvered front wings, a roof scoop upgrade and a carbon fibre airbrake.
Inside the 675LT you will find MSO Bespoke racing seats finished in Carbon Black Alcantara which feature orange and blue contrast stitching. The seatbelts are orange MSO Defined while the owner's initials are again found on the headrest embroidered in blue.
Just for a bit of a recap, the 675LT's "LT" abbreviates 'long tail'. The modern day "Longtail" is powered by McLaren's 3.8-litre twin-turbo V8 which is good for 675 PS (666 hp/ 496 kW) and 700 Nm of torque.
McLaren's MSO Managing Director, Ansar Ali said that this modification, as a tribute to the F1 GTR 'Longtail' was "incredibly demanding in its own right". The 675LT then really is a grandchild of the F1 and should make a special item to have to the lucky owner.