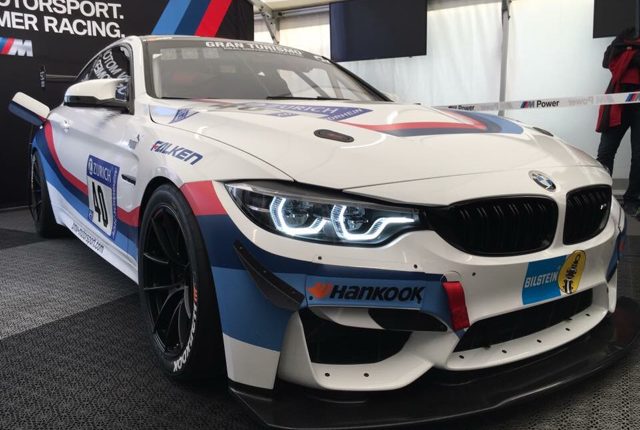 We saw the teaser earlier in the week but now the BMW M4 GT4 is official.
It was revealed to the public at a special event at the Nürburgring and has a few new tricks up it's sleeve for the racers among us.
The engine and tramission are from the M4 Coupe but this M4 GT4 becomes the first model from the Motorsport division to be equipped with power sticks. BMW says they "can be pre-programmed for different engine performance levels" so customers can quickly react to "changes to the Balance of Performance in various races."
Aside from this, the GT4 gets a roof, doors and hood made from CFRP (carbon fibre reinforced plastic) and has also been fitted with a racing front splitter, adjustable rear wing and a lightweight racing exhaust system.
Since it will live on a race track, it has been fitted with upgraded shocks with adjustable springs, motorsport-specific stabilizer bars, and special Öhlins shock absorbers. To make sure you stop in time you get a high-performance braking system on all four corners.
Power from the 3.0-litre TwinPower six-cylinder engine is more than 425 horses and it is connected to a seven-speed dual-clutch transmission which features special motorsport software.
The BMW M4 GT4 is currently available to order and pricing starts at €169,000 (plus VAT).