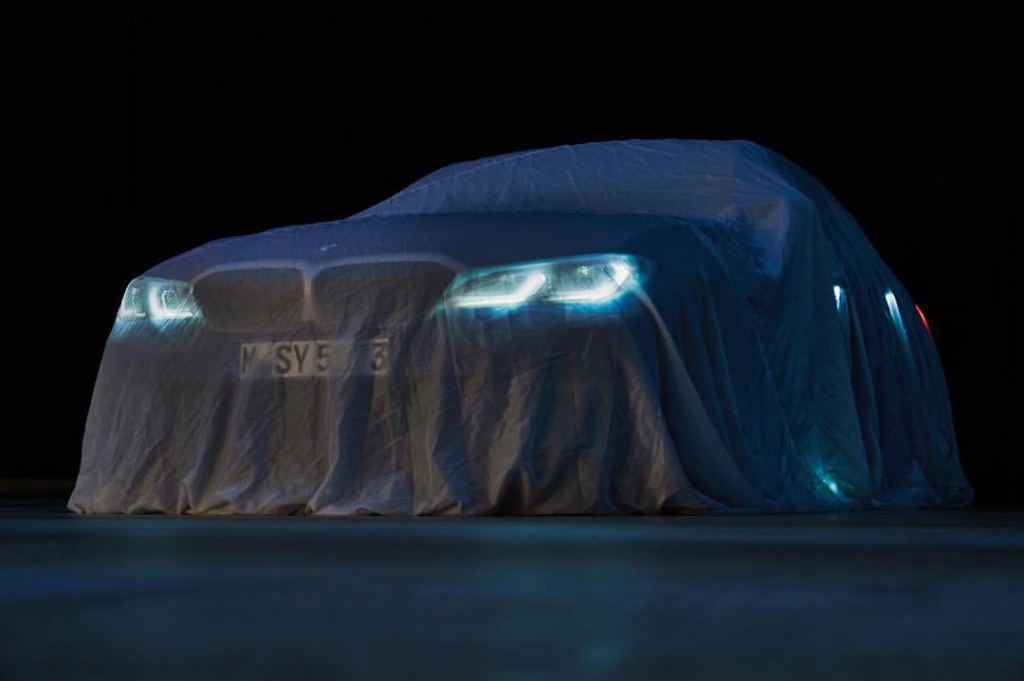 BMW has recently been rather open about its upcoming 3 Series codenamed G20. After some details and even the company's own "spy shots" were released, there has now been a teaser image of what appears to be the next-generation 3-Series due for official reveal at the Paris Auto Show early next month.
The image shows a BMW that looks much like a G20 3 Series covered in a sheet. Thanks to the sheet being partially see-through, we can see that the new car will feature a more dominant looking front end, so much so that we suspect that this is the range-topping M340i sporting an M Performance kit. The kidney grille is evidently larger than that of the outgoing model, as are the headlights and LED daytime running lights which appear to have undergone a complete revamp.
For its new 3 Series, BMW has focused on weight reduction and perfect distribution to produce a more sorted out car that finds an even more ideal balance between a comfortable and sporty configuration than even the current model. Underpinnings have been honed to improve rigidity while sustaining a perfect 50:50 weight distribution. Furthermore, the G20 will lose in the region of 55 kg over the outgoing, equivalent F30.
To ensure a better ride that offers a sweet spot between a sporty and comfortable ride quality, engineers have paid special attention to the car's suspension. As a result, a new suspension system with lift-related dampers has been developed. Moreover, those models fitted with BMW's M Performance kit such as the M340i featured will benefit from the M Sport Suspension which allows it to sit 10 mm closer to the ground.
Speaking of the M340i, this range-topping model (save for the M division's offering) will be good for around 360 hp (268 kW) and 500 Nm of torque courtesy of its 3.0-liter turbocharged straight-six engine. Like the model it replaces, power expected to hit the rear wheels via an eight-speed auto box, an xDrive all-wheel drive system may be offered as an option. As for an alternative transmission, we will have to wait a little longer to find out if a manual gearbox will also be on the table.