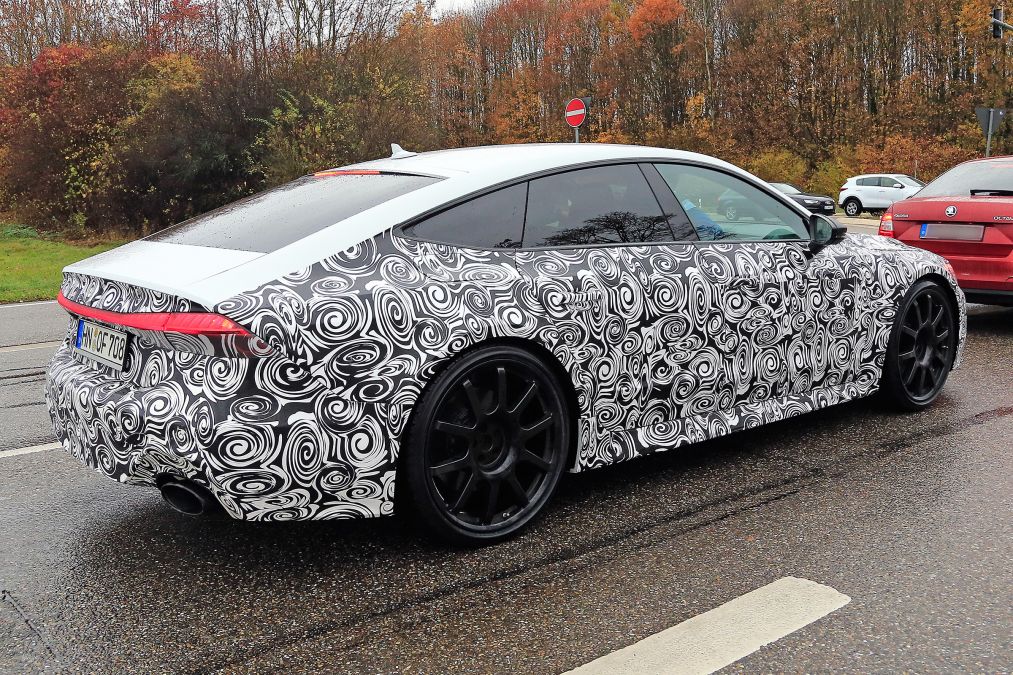 Audi is working on a new RS7 to serve as sovereign on the new A7 range. With over 600 hp (447 kW) from a new twin-turbo V8, the new flagship five-door coupe promises to be a pertinent response to the new BMW M5 and Mercedes-AMG E63 S.
Set to launch in 2019, the new Audi RS7 will use a new Porsche-derived 4.0-litre twin-turbo V8 rated at 605 hp (451 kW) and 800 Nm of torque as said by Audi insiders. As with the outgoing model, the V8 will be mated to an eight-speed automatic gearbox sending power to a Torsen torque-sensing all-wheel drive system.
Thanks to the new A7's updated MLB platform, the new RS7 will boast an 80kg weight reduction over the model it replaces. Power gains, together with the weight loss should enable the flagship four-door coupe RS model to achieve a 0-100 km/h time of around 3.5 seconds, proving its capabilities against the obvious rivals.
Although Audi is still keeping its forthcoming four-door missile under wraps, prototypes have been spotted testing wearing full camo wrap in Germany. Still, spotters were able to note that styling details speak in the same language as other Audi RS models. The big wheels are a given, but enlarged honeycomb air intakes at the front and signature oval-shaped twin exhaust pipes outback gave the RS away.
The Audi RS7 will be built at the company's Neckarsulm plant in Germany alongside its station-wagon stalemate called the RS6 Avant. With the pair sourcing power from the same engine found in Lamborghini's Urus and Porsche Panamera Turbo, we are curious to see how the Quattro offerings will fend against rivals from Mercedes-AMG and of course BMW M.